Anti Bullying team
At Newbold Church School we have 12 ambassadors who make up our anti-bullying team, with representatives from each year group, from Year 1 to Year 6.
These children were voted to represent classes by peers, following their presentation about why they should be chosen, and why they felt passionate about this role.
They meet regularly to discuss issues raised by pupils or staff, to continue to promote anti bullying and support peers to feel safe, valued and respected in our school.
How we define bullying in our school
Our NCS definition of bullying
We believe that bullying is a deliberate attempt to hurt others, either mentally, physically or verbally, and is repetitive. (This means it happens on more than one occasion)
We use V.I.P to define bullying – this means verbal, indirect or physical.
Some examples of verbal bullying are:
name calling

swearing

spreading rumours.
Some examples of indirect bullying are:
vandalising property

leaving you out of games on purpose.
Some examples of physical bullying are:
punching

kicking

pinching
We think that bullying can be in person, or in the form of cyber bullying (this is online and can be via text messaging and social media apps)
Bullies sometimes try to intentionally hurt others on the sly so that it is hard for other people to notice.
Our Pledge
As anti-bullying ambassadors we will try to identify if a peer is being bullied, and will speak to an appropriate grown up. We will support our peers to make friends, have someone to play with and feel safe at NCS.
If you need a buddy we are always here.
We're really proud to have achieved the Diana Award.
The Anti Bullying Diana award and campaign engages young people, parents and teachers to change the attitude, behaviour and culture of bullying by building skills and confidence to address different situations, both on and offline.
A parents Guide to Anti-Bullying
The below information may serve as a reminder and offers a simple step by step guide for parents. It can be found in the newsletter section of school jotter.
Anti Bullying focus of the term
Each half term the whole school focuses on a theme related to anti-bullying and will complete a range of activities to help children understand these aspects in more detail and be confident with what to do if they found themselves in a situation related to the issue. These activities may be art, drama or discussion based, amongst other fun ways to help children understand some important messages and issues!
This half term we are focusing on...
Online and digital awareness
Following feedback from our recent parent surveys and pupil's comments about remote learning, and the amount of time online, and the rise in use of social media of our KS2 children we are promoting safe use of a variety of platforms and apps. We are encouraging children to follow basic steps to ensure they are safe online, no matter what technology they are using.
More information on e-safety can be found in the parents tab.
Information on specific apps such as facebook, Roblox and you tube can be found at this page.
'On the internet' is a story on the childnet website that is aimed at young children aged 4 and above.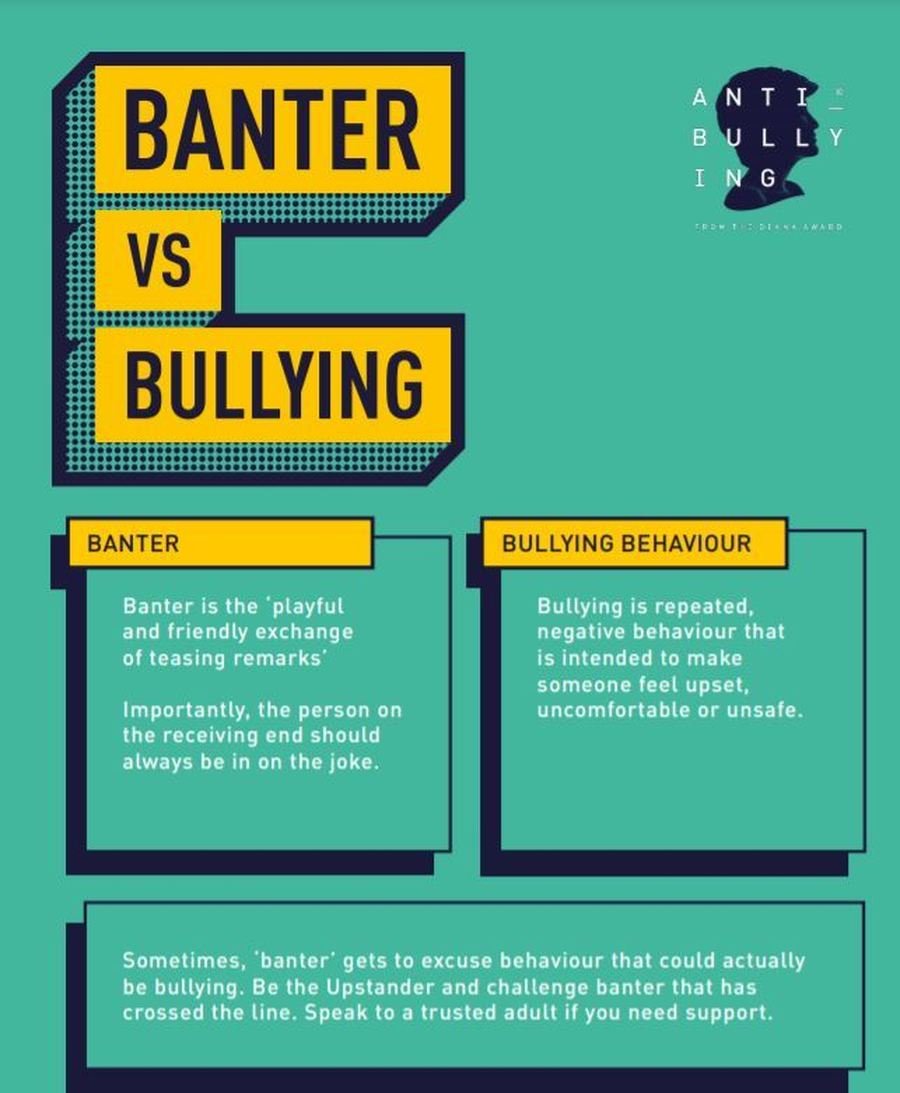 Useful websites
The below websites can offer support and advice to children and young people, as well as parents and carers. Click on the links to go straight to the websites for useful resources, tips and further guidance.
Page updated September 2021
Meet the team
Here are our ambassadors wearing their new anti-bullying team badges.
If you have any concerns about bullying, are unsure what to do if you feel you are being bullied (verbally, physically, or indirectly) or would like someone to talk to, find one of our anti bullying team to help you.
There are 2 ambassadors in every class so there'll always be a buddy looking out for you!
What the Anti-Bullying team is working on now
Online safety - including apps and games
Fake news
Peer pressure
More information about this can be found at:
Pupil Voice
Please see the attached leaflet to read the findings of our pupil voice questionnaires carried out by the team in May 2021.
Types of Bullying
There are 3 main types of bullying known as the VIP - Verbal, Physical and Indirect.
School Policies
Please click on the relevant policies below to read more. All of these policies, and more can be found under the parents - policies pages.
Child's voice anti bullying policy
Comments (0)
There are currently no comments.